A London gin project made with schmick.tv for a competition in 2013
"London: The city in balance" is one of two corporate films written & directed by A D Cooper but produced through London production company schmick.tv
This one was created for the London Beefeater Gin competition, while the other was for a drinks company annual conference combining confidential information with green screen, live action and motion capture.
She has also written over 100 scripts for live events, and corporate, training, web and conference films with clients as diverse as Pernod Ricard, Kodak, MITIE Logistics, Fortnum & Mason and Ogilvy HealthWorld. A list including many live streaming films can be forwarded on request.

As a director, A D Cooper has been my go-to writer and conceptor for many years now.
Diligent, thorough and professional in the extreme she grasps the big picture and the detail in equal measure and always delivers pure gold that comes off the page effortlessly.
More recently she has directed a couple of projects with passion and great results.
I can unreservedly recommend her in either capacity.
Christian Banfield
schmick.tv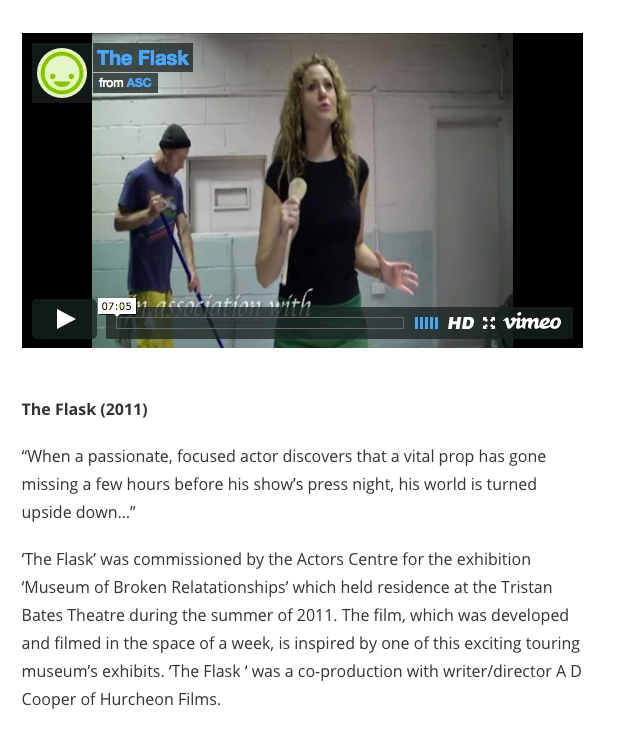 This is a short film made with ASC in 2011. Developed from an improvisation, the film was written, prepped and directed in under 72 hours. For more information and to watch the film, go to http://www.asclondon.com/our-films/
March 2020: A D Cooper was script editor for the short film "The Winter BBQ" (Busy Kiwi Productions), which has been produced and completed within a month for the Action on the Side initiative. This helps crew to develop their skills in the different disciplines behind the camera, and regularly produces short films within a month.
In September 2021, A D Cooper produced (and was sound recordist) for the short film "The Protocol" for Winginit Productions, directed by Amal Al-Groobi for the 48-hour Sci Fi Film Challenge. The resulting film was a top 10 finalist in the competition with a screening at the London Sci Fi Film Festival in October 2021.